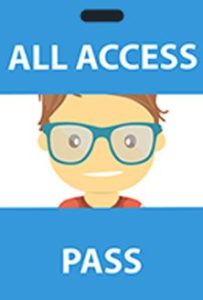 An All Access Pass allows you to take all of our CEU courses for 365 days from purchase for $129.
Instant certificates
Access all CEU courses, including new ones added
Play as videos
Embedded YouTube videos
Saves your place if you need to finish later
Cheapest way to get your CEUs!
has been added to your cart!
has been added to your cart!
$10 Discount: Use the discount code Save10 to save $10 instantly. Discount codes can only be used once.
No Argue Refund: If you purchase an All Access Pass, and after taking one course decide you want a refund, we will refund your entire purchase price. You get to keep the certificate for the course you took. We have hundreds of All Access Pass users and no one has asked for a refund. Therefore, we are confident you will like our courses and service.
Program notes: Upon initial purchase it may take the system a few minutes to register you into all of the courses. If you select a course and the orange "Take This Course" button appears then give it a few minutes and try again. Contact us if necessary.
With an All Access Pass you will still see course prices listed when viewing the catalog. Simply click on a course and it will automatically open, no further payments are necessary.
Note: Pre-recorded "live" CEUs are not accepted in Kansas. They will be counted as self-directed.
Renewal: You will be sent email reminder about 2 weeks prior to your auto-renewal. You can manage your subscription from the Main Menu – Unlimited CEUs – Manage Subscriptions menu. Please be sure to print/save all of your certificates prior to your subscription expiration.